Welcome to
Southcombe Lodge
Unique large group accommodation for extended families, schools, community and corporate groups.
A unique venue for large groups…
If you're looking for a facility that accommodates your school, community, corporate or large family group, then Southcombe Lodge is your perfect choice.
Southcombe Lodge is in an excellent location to provide a unique experience for special interest groups, small meetings/conference groups and school group users. Situated on the boundary of Southcombe Caravan Park this lodge has plenty to offer a variety of different groups including quick access to beautiful beaches, sporting facilities, heated pool and the bustling Port Fairy town centre.
The lodge can accommodate up to 66 people across 16 bedrooms and has dedicated recreational/meeting rooms and a large dining room that can hold up to 80 people. There is also a functional kitchen that can cater up to 80 people, spacious amenities as well as a large community laundry.
Southcombe Lodge guests are within easy walking distance to beaches, surfing and fishing spots and only a short walk to the heart of Port Fairy offering shopping, cafes, restaurants, hotels and entertainment facilities.
The lodge can also be hired out for special events and functions.
Southcombe lodge is set to reopen on Monday the 22nd of June for bookings and we couldn't be happier to welcome you all back to our beautiful region! Ready to book or got an enquiry? Click the button below!
Group Activities
Regardless of your type of group there's plenty of activities in and around the Port Fairy region.
Lodge Specials
Check out what amazing deals you can pick up for your next holiday to Port Fairy.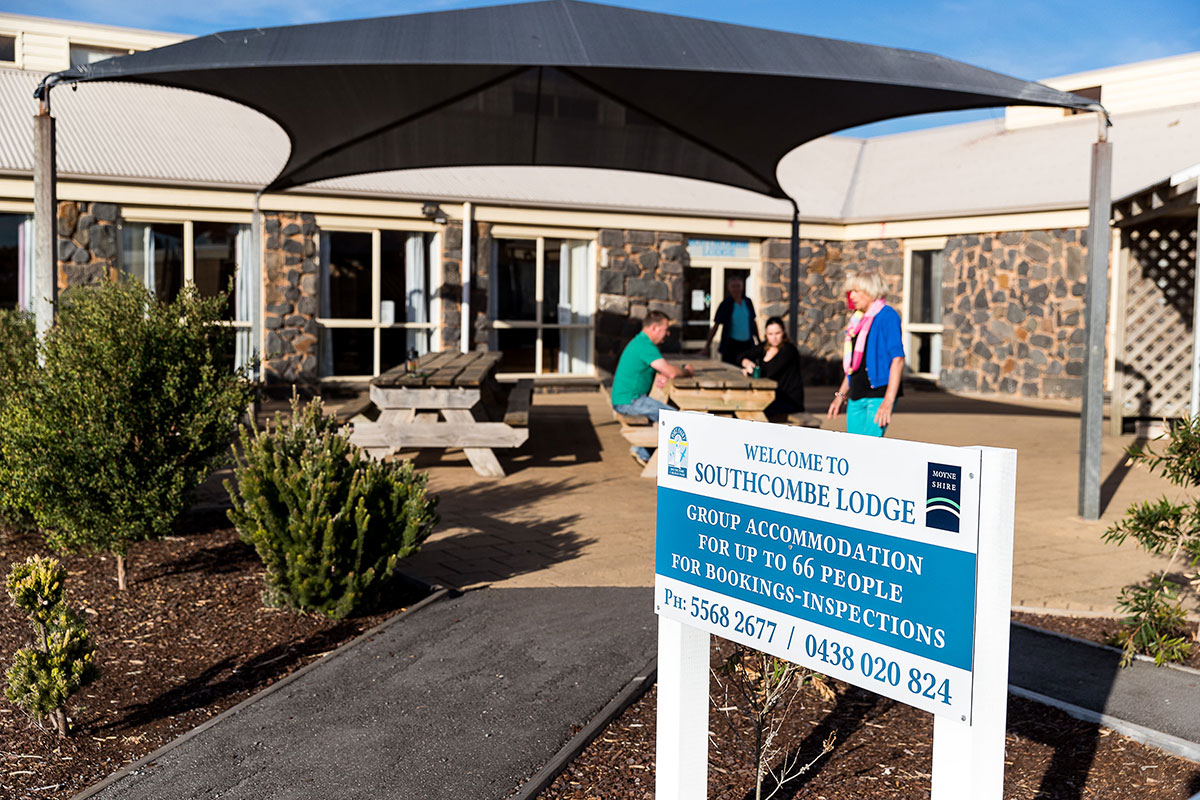 Featured Special
Mid-Week Winter Deal at Southcombe Lodge
June 1, 2019 – August 31, 2019
Thinking about a group, school or extended family retreat? Come and experience Port Fairy in the wild and wonderful winter months – you might even spot a Southern Right whale or two! Mid-Week Winter Deal at Southcombe Lodge Stay 1 night / get 1 night free. Available Monday – Thursday …
Group activities in Port Fairy…
There's plenty of group-based activities on offer in the Port Fairy region.
From learning to paddle board at one of the main beaches to a round of golf at our prestigious Golf Club, horse riding, bay cruises, river and ocean fishing, bike riding, rail trail, beach walks, learn to surf classes, search for sea life in the rock pools, explore the historic wharf, walk around and discover Griffith Island and the iconic Port Fairy lighthouse. There are plenty of options for every type of group travelling to the region.
Southcombe Lodge also offers a variety of different in-house activities including a basketball court, table tennis setup and other indoor games & activities.